We decided it was time to give the little man a little buzz. Peter let Berg touch the razor and feel it vibrating so he'd know what was happening on his head. It was a good idea but it didn't really matter. He didn't care for the trim.
We're pretty sure these were Berg's thoughts: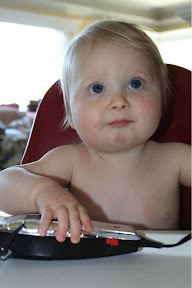 Ooooo, this feels cool. This will be fun!
Wait, this feels weird.
Stop!!! I don't like it! I don't like it!
Okay, I'm fine now. Hey, I look just like Dada!