Our long voyage back to WA took three days! We knew we didn't want to push it and had plans to see some sights on the way. We were sent off with basket of presents day from Nonnie, Mimi and Aunt Sherri so the kids had even more toys to surround them on the drive. (Before our decent down to CA my mentor mom, Mrs. Madson, gave all the kids their own goodie bags full of car travel fun!
The first leg of the trip we made it to the Sacramento area. We crashed at a hotel which had all you can eat breakfast, all you can watch cartoons and an all you swim in pool - until the people who are trying to sleep in the rooms above the pool come in and tell you to be quiet. Do yo know how hard it is to be quiet in an indoor pool? We deemed it impossible. To be nice, even though the pool was open, we went back to watch cartoons. Needless to say we got a late start to our second leg.
That afternoon, we headed over to our friend's, the Reeds, to see their cool place. They fed us lunch, showed us their cows, chickens, lake and let us play on their trampoline and zip line! And then we were off again! We only made it to Oregon where we found another hotel with a pool.
We had to stop in Oregon so we could visit the House of Mystery the next day!
Peter and I had gone here before we got married and had fond memories of the Oregon Vortex. You can feel yourself shrinking and growing as you walk from one side to the other! It's cool! (Opal was done with the coolness at this point, but she was there.)
Peter still doesn't believe it, but look at their height difference! Even Jasper appears out of nowhere!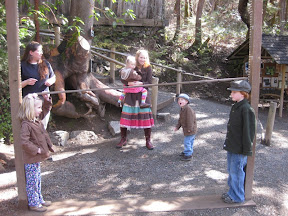 These ones are taken by Eben, but I think it shows even clearer how I shrunk, or Peter grew - which is it? We'll never know! Also watch for the appearing Jasper - a common Vortex phenomenon!